Here's a link to a recently released video from the I Matter youth action movement
Xiuhtezcatl Martinez Returns from RIO+20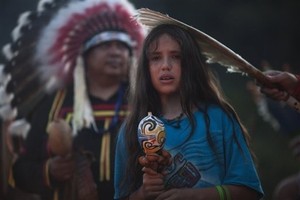 Xiuhtezcatl (pronounced shoe-tes-cot) Martinez is 12 years old.  He's been a climate change activist for half of his life.  He lives with his family in Boulder Colorado and he, with his mom, Tamara, and their group, the Earth Guardians, organized the largest iMatter March in the US in 2011.  He's a passionate and dedicated activist who has just returned from Rio de Janeiro, where he participated in numerous events at the international sustainability conference. 
Xiuhtezcatl is one of the iMatter youth who have joined us in our legal action.  He shares, "The proof of climate change is everywhere I look. In my lifetime, the amount of forest killed by pine beetles has expanded. The number of acres burned has intensified. My generation is losing our forests. We are losing our homes. It's not too late to ensure my generation has a livable future. But we need to listen to the science and act now."
Watch Xiuhtezcatl's film, the sixth of ten we are co-producing with our partners, Our Children's Trust and WITNESS, to highlight the impact of the climate crisis on the youngest generation….and what they are doing about it.